Originally on PopSyndicate: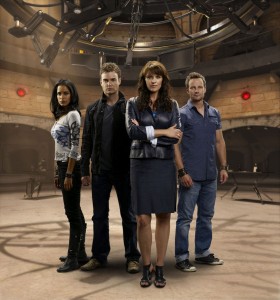 Other people were in this episode, but it was really all about Henry.
Henry is dilligently working to get the Sanctuary network back together when he receives a call from a colleague who is working on the rehabilitation of a otherwise wild abnormal. Something bad happens to her while they are on the phone and Henry rushes out to the scene with the rest of the team. Obviously driven by very strong feelings, Henry collects evidence and wipes the area of traces of the work completed their to shield the information from police. Then the race is on to save his friend.
For the most part, this episode was about a love triangle Henry was caught up in. Sure, there was some business with an abnormal that shot spores out of its body, but Henry was the center of the show.
There were a bunch of cool tech shots when Henry brought out a 3-D imager which was pretty awesome, but most of it was just heavy conversation, even in the case of the sign language chat Henry had with the abnormal.
I have stated blatantly before that Henry is the main reason I watch this show. Ryan Robbins does a terrific job with this episode. Now if only he can pull some of his coworkers aside and give them a few pointers, everything would be fantastic.