Originally on PopSyndicate: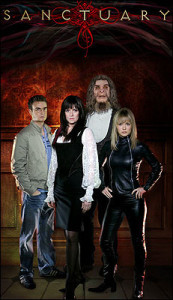 Sanctuary: An original web based show turned primetime. Stars Amanda Tapping as Helen Magnus, scientist studying the extreme and Robin Dunne as Zimmerman the psychologist who people say sees too much.
This show was beginning to come into its own with its exploration of how the abnormals deal with the rest of society, when they decided to come up with the token "accident in the middle of nowhere" story. In this case it was a plane crash. We began the show with a flashback of John and Magnus which was fairly cute and Helen awakens in the wreckage of the accident. I'll be honest with whoever reads this, I kept falling asleep trying to watch this episode both times I tried.  First thing Magnus does is phone home, but that leads to nothing since they need to be stranded for 44 minutes. The victims argue and do the we're stuck thing. It gets somewhat interesting when a freshly escaped creature they were toting starts taking out the passengers that might as well have worn red shirts. When I say somewhat, I mean it.
For the most part it was pretty much a dime a dozen horror story until the aspect of the monster being able to alter the perceptions of the survivors was introduced. This development brought intrigue into the situation for a short while since the main characters are supposed to be prided on their intellect. The most painful part of the realization was the fact that after the "don't split up" conversation, Will was convincingly tricked into the fake rescue sequence, and spent entirely too much time talking to his imaginary mother. It is understandable why they chose to have that scene in an effort to show Magnus detecting the monster in his Will disguise, but it was a bit of a stretch.  I was annoyed that they took out the weapons guy though. Maybe next week we won't get a not as good rehash of a Doctor Who episode (this screamed "Midnight" -lite.)