Originally on PopSyndicate: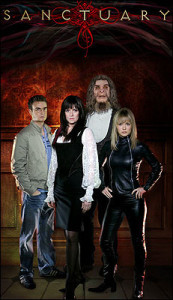 Sanctuary: An original web based show turned primetime. Stars Amanda Tapping as Helen Magnus, scientist studying the extreme and Robin Dunne as Zimmerman the psychologist who people say sees too much.
Nubbins was very reminiscent of the Star Trek episode about Tribbles. The similarities are not just in the fact that they are cute furry animals but also in the fact that they are vicious breeders found captured with a predator. Since it has been ages since seeing the tribbles, I do not recall whether temperature was a factor in the containment of the tribbles as was the case with the nubbins, but otherwise you could probably substitute one name for the other in either series. While the show has been doing a much better job of finding its niche, this episode felt quite a bit out of place. Characters have been gradually developed so far in the storyline, only to have the personalities cast away for the sake of this singular adventure. Everything that happened dealing with the nubbins was only done to draw out the thin plot, unfortunately this did not help the show at all and I apologize to anyone who saw this chapter first.
One of the underlying disappointments I have with this entry in the series is that it was promoted with the nubbins producing the effect of the team being overwhelmed with sexual tension. This was hinted at, lightly. Usually when this is stated in a promo, something happens. There is subtlety and then there is non-effective hinting which does not qualify as sexual tension.
Also along for the predictable nubbins ride is a young woman named Sophie who at the behest of her possibly-turned-into-definite abnormal grandfather contacted the Sanctuary folks for further investigation.  While this could have been the best part of the adventure, this too was drawn out and not eventful other than for her to say she felt the nubbins pain and that they disliked cold. If Will had been as perceptive as they are trying to portray him, then he would have noticed the temperature of the nubbins containment area in the very beginning, negating all the useless goings on throughout the rest of the episode.
It is likely a good assumption that this episode was written earlier than the episodes that it followed, this has a similar feeling of confusion of direction and indecision present in the webisodes that was translated into the first few televised tales. Having seen the other episodes this lack of good writing will likely not be an issue.